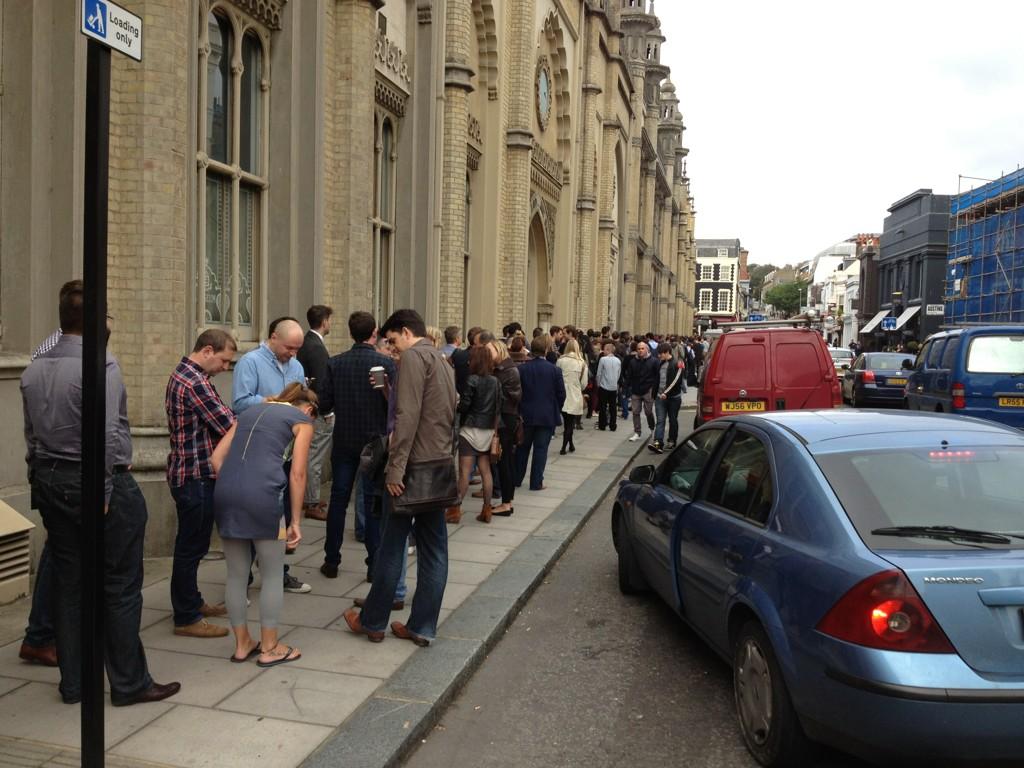 #BrightonSEO – The UK's biggest and best digital marketing conference is back with a bang today!
Today's first session has just come to a close, filled with brilliant insights into how to be creative from David Trott. Not only that we had Anthony Mayfield speaking brand and getting us into the mindset of discovering brand new ideas for search marketing.
First of all it's great to see so many people at Brighton SEO, the dome is packed to the rafters today filled with over 1700 attendees eagerly listening and writing away on their vast array of digital devices! Instagram, Twitter, Facebook and Google + have been on overdrive this morning and we don't expect to see any let up.
So back to the talks… Dave Trott divulged his predatory thinking, killing the competition. He began his talk stressing the fact that being creative is being different. His talk discussed the theory of 'Pure creativity' – Using the concept of pure and applied maths, pure being the logic argument & reason, Applied being what it is used for. He then uses this concept in the advertising and online marketing realms, where by pure creativity becomes art, painting and installations and applied creativity becomes the practical, furniture designers, movies and so on.
Demonstrating that the idea of a campaign needs to fulfil the end result  of a client and not lose sight of it. This becomes more evident when on average only 90% of advertising is noticed across all forms and out of the BrightonSEO audience only 10 people could remember one advert they had seen yesterday.
How should a good a good campaign be structured?
In most cases advertisers and strategists are focusing on the persuasion section and therefore missing the impact and communication, without these two important elements of a campaign you won't get the message across to the consumer and it will become lost with the other 90% of adverts.
Ideally the strategy should start with impact and include communication & persuasion.
Standing out from the crowd
Using Psycho graphs people can be split into 2 categories 'Opinion formers' & 'opinion followers'.
The above shows opinion followers are a lot smaller and harder to target than opinion followers, he used the analogy of men in a pub. Usually you will have one guy telling the jokes and giving his opinions on the latest football match while the rest of his mates chip in and follow his words.
The idea is if you target the opinion formers, they will spread the word to the followers and to target them they want conversation fuel. In short, a fantastic insight into how to be more creative and out-think your competition.
Next up came Anthony Mayfield delivering his talk on – do you speak brand? He presented his feelings that we're too dramatic in digital – SEO is dead? was it? is it? well…no it's actually very alive! He explained how SEO is earned media with high quality content ruling the waves in a post panda and penguin update world. Anthony also highlighted that other online resources such as social media and paid search need to work in full harmony in order to get the right results.
One of his key points was to invest in the content supply chain – which means good content, fresh content and useful content. Finally, segment your market audience and don't put the wrong content in front of the wrong audience.
The potential of search is so huge and Anthony believes it's time to look at all of the other things that search can do. Tap into other budgets and other ways of being useful within marketing. Deliver value to empowered customers, foster lasting connections and capture value. This means being close to the customer and telling compelling stories.
Session 2 is underway as we speak, so we'll be updating you about the following talks in just a bit:
How to win friends. And influence robots.
Martin Belam – Principal Consultant, Emblem
Chasing the Algorithm: Smart SEO or Hopeless Effort?
Rebecca Weeks – SEO Associate Director, MGOMD
Speaking your user's language
Stephanie Troeth – User experience strategist, Freelance
API? WTF?
Tom Anthony – SEO Consultant, Distilled
Finally, don't forget to enter our amazing Instagram competition! Send us your best pictures from the day at #brightonseo!